Bringing together and growing civic leaders for a day of skill building and connection.
Scroll down to RSVP!
Are you a young person who is making change in your community? Do you want to build your organizing or advocacy skills? Curious about how to engage more young people in your community in voting? Join us! Educators are welcome! Students are welcome! Young people from across Maine are welcome!
September 30, 2022
8:00 am - 3:00 pm
Kennebec Valley Community College

What actually happens?
Learn about and launch the 2022 Maine Campus Voting Challenge.
Attend workshops to increase skills and knowledge of civic leadership. Examples: Organizing 101, How a Bill Becomes a Law, Running for Local Office.
Build a network of young people & elected officials & school administration.
Agenda preview:
8:30-9:00 AM Get checked in!
Explore the community organizations that are sharing their work at tables in Woodlee. Make your way to Moody for the opening!
9:00 -10:15 AM Opening
Hear from MSV Fellows Hunter, Maya, and Brett about what to expect and listen to our keynote speakers Secretary Bellows & Representative Carlow, and many more!
10:30-11:30 AM Workshop Session 1
Making Change at the Ballot: Citizens Initiatives & Direct Democracy - Maine People's Alliance
Group Facilitation 101: Can We? Project - Waynflete
How Elections Work in Your Town - Waterville City Clerk
Campus Staff - Building Voter Participation on Your Campus - All IN & Maine Students Vote
11:30-12:30 PM Lunch and networking.
12:45-1:45 PM Workshop Session 2
Irresistible Voting & Building Youth Movements - Maine Youth Power
Votes & Ballots: Planning Your Campus Action - Maine Students Vote
Democracy Is An Ongoing Project: Building Skills of Advocacy - Sierra Club & Our Power
Relational Organizing 101 - League of Women Voters of Maine
2:00-2:30 PM Community Building
2:40-3:00 PM Closing + Reflection
Downloadable Flyer: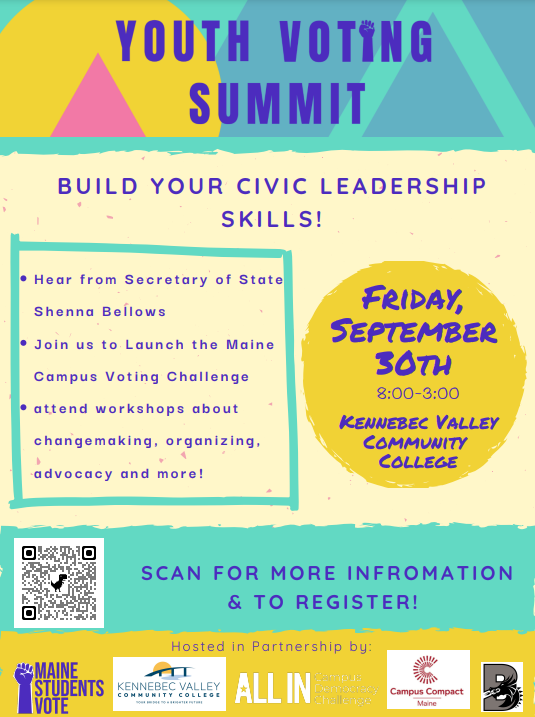 Questions? Please reach out to allyson@mainestudentsvote.org to talk about transportation scholarships, details, questions, and tabling opportunities!